ContainerDays NYC 2015
The community container and dynamic infrastructure (un)conference comes to the Big Apple for Halloween: NYC on October 29-30, 2015.
Learn, share, experiment
Looking to learn how to go from Container 101 to doing this 'for real'? What the technical story is behind containers? What it's like to run Docker, Mesos, etc. in production? Where the experts see this technology going..?
Mark your calendars: October 29-30, 2015
---
What is ContainerDays NYC?
ContainerDays NYC is a community (un)conference to encourage discussion and learning on the subject of containers and dynamic infrastructure generally. The programme is a mix of OpenSpaces sessions and talks from users, contributors and extenders from all corners of the space.
Whether you're an expert or new to the space, there'll be plenty for you to learn and discuss. It's an unconference, so you get to pick the topics!
Get your ticket
What is an unconference?
If you've never been to an unconference or OpenSpaces event before, don't worry - it's a really easy format to get into. You may want to read this for some background.
---
Programme
From real-world implementation lessons to hands-on getting started workshops, we're trying to ensure there's something here for everyone - whether you're a container expert or are only just getting started, or can make both Thursday and Friday or attend only one of the days.
Workshops
We're looking forward to thought-provoking talks and discussions, but at some point you'll also want to get your hands dirty. That's why the second half of Friday is all about workshops, where you can team up and spend some keyboard time trying out interesting ideas and technologies.
We'd like to apply the unconference idea to the workshops, too. There'll certainly be some guided, step-by-step sessions if you're looking to get started. But we're also encouraging you to team up with a couple of other participants, get hold of one of the speakers, sponsors or other experts running around, and try out some of the tools and concepts that come up in discussion.
Please note that the programme is provisional and subject to change.
Thursday, October 29th
| Time | Description | Comment |
| --- | --- | --- |
| 09:00-09:30am | Breakfast & registration | Welcome to the first ContainerDays NYC |
| 09:30-10:00am | Welcome, introduction, OpenSpaces explanation | |
| 10:00-10:45am | Docker Enables DevOps slides video | Boyd Hemphill, StackEngine |
| 10:45-10:50am | Sponsor shout-out | |
| 10:55-11:40am | Container Orchestration Compared: Kubernetes and Docker Compose, Machine & Swarm slides video | Darren Shepherd, Rancher Labs |
| 10:55-11:40am | The Storage Elephant in the Container Room: What You Need to Know About Containers & Persistance slides video | Ryan Wallner, ClusterHQ |
| 11:45-12:30pm | Container-Native Architecture slides video | Tim Gross, Joyent |
| 11:45-12:30pm | Thinking Differently: An Introduction to AWS Lambda slides video | Tara Walker, Amazon Web Services |
| 12:30-01:10pm | Lunch & exhibitor time | Also time to think about OpenSpaces & workshop topic suggestions! |
| 01:10-01:15pm | Sponsor shout-out | |
| 01:15-01:35pm | OpenSpaces "ignite-off" | Quick intro to OpenSpaces and pitches for topics |
| 01:35-02:20pm | OpenSpaces session | |
| 02:20-03:05pm | Containers, Microsoft and DevOps: What is Microsoft Doing About All This Anyway? slides video | Gil Isaacs, Microsoft |
| 02:20-03:05pm | Identifying Common Vulnerabilities and Exposures in Containers slides video | Joey Schorr & Quentin Machu, CoreOS |
| 03:05-03:20pm | Coffee break & exhibitor time | Also time to think about OpenSpaces & workshop topic suggestions! |
| 03:20-04:05pm | OpenSpaces session | |
| 04:05-04:50pm | OpenSpaces session | |
| 04:50-05:00pm | Day 1 wrap-up | |
| 05:00pm | Day 1 close | |
| 06:00-08:00pm | Thursday night party | At the AWS Pop-up Loft New York in SoHo |
Friday, October 30th
Sponsors
Platinum sponsor

Gold sponsors

Silver sponsors
Thursday breakfast sponsor

Thursday lunch sponsor
Friday breakfast sponsor
Friday lunch sponsor

There are no more sponsorship packages available for this event. If you're interesting in taking part in future DynamicInfraDays events, please get in touch!
---
Thanks
Very special thanks to arvato, StackEngine and XebiaLabs for giving the organizers time to put this event together.

A big thank you goes to Microsoft New York for hosting this event.
New York is one of the world's great cities, and at Microsoft NY, we're making it one of the most innovative. From fostering new ideas and 21st century jobs to providing tech tools to prepare for and quickly respond to crises, Microsoft NY is connecting the city and its people like never before.
Thank you also to the AWS Pop-up Loft New York for hosting our Thursday night drinks & snacks.

The AWS Pop-up Loft is open in New York! Located in SoHo, the AWS Loft is a space where anyone can grab a coffee, work on their app, and get in-person answers to their technical AWS questions - at no cost.
Stay in touch
You can also follow
@DynInfraDays
on Twitter for updates or of course
reach us via email
.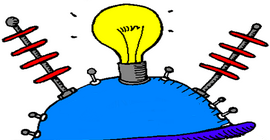 ContainerDays NYC 2015 is a DynamicInfraDays event